ECOS is used in the automotive industry for checking electrical and electronic devices in the vehicle at the mid or at the end of the assembly line. ECOS for end of line includes the check for both, electrical systems (e.g. electrical headlights, power windows, seat heater) and the electronic systems (e.g. control units for ABS, airbags, engines, drives) in the vehicle. The ECOS for mid of line includes continuity, component and functional of the harnesses used in the vehicles.

♦ FOX- ECOS Variants:

► ECOS – Basic client / server architecture (ECOS stations are centrally managed from ECOS server)
• Many ECOS stations (clients) in the plant can be centrally managed from a server.
• ECOS client configuration for each ECOS station can be done in ECOS server.
• ECOS station configuration can be done in following ways to reduce TACT by means of parallel processing
- split a station into more than one
- combine two stations
- duplicate the station
- several virtual ECOS clients can be configured at one (physical location) ECOS station
• Test parameters for all models for all stations can be managed centrally from a server.
• Single Server controls and displays the status of all ECOS clients.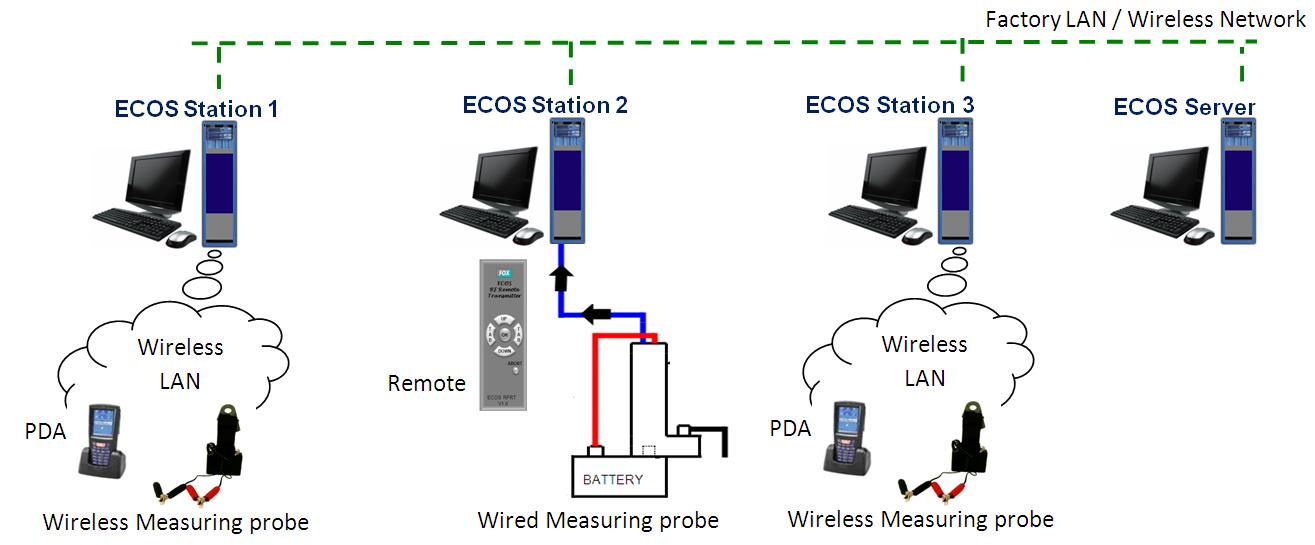 ► ECOS - Redundant servers for high availability
Redundant ECOS servers increase the availability of the complete system. The primary server and the secondary server regularly synchronize to exchange data. This ensures no downtime and minimum data loss in case of failure. The servers can be configured in hot redundant, warm redundant or cold standby mode.

► ECOS – Basic Standalone (wired probe for data acquisition and remote control for operator)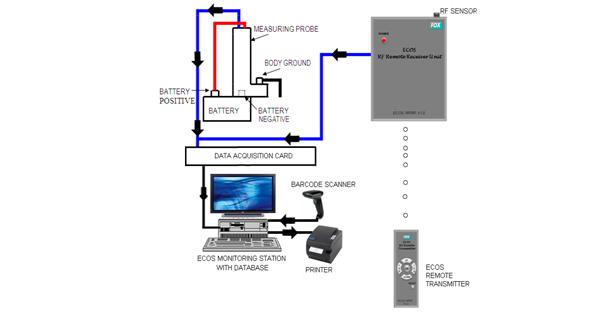 • Fast configuration, adaptation for new models.
• Guided Configuration of new models using interactive Teach In mode.
• Version Management for test parameter configuration of models
• Can handle up to 99 models. More possible on demand
• Modeling for battery voltage variation
• Auto, semi auto and manual mode of testing
• Configurable instructions to guide the operator while testing
• Remote Control Unit for test operation
• Tests OK / Fault Ticket Printing
• User friendly graphic screens
• Fault Statistics and Trends
• Report Generation
- Period / Day / Shift wise production reports
- Vehicle – ID wise detail reports
- First Pass Yield
- Declared Quality Level - DQL
- Customized report facility
• Real time alarms and data analysis
• Error code, wiring details and check list for failed tests
• Interface with barcode or RFID scanner
• Repair work data capture
• Statistics / reports on repair work
• Calibration software for measuring probe
• Bell Curve and trends to determine the parameterization values for the test steps for electrical check
• Modular, Flexible, scalable, commercially available off the shelf product (COTS)

► ECOS – WDA (wireless probe for data acquisition)
• Wireless Data Acquisition ( Current and Voltage measurement)
• No need to remove and reconnect the battery terminals of the vehicle for measurement
• Wireless probe diagnostic features
• Fast operation
• Ease of operation because of wireless test environment.

► ECOS - WPDA (wireless hand held terminal for operator interface)
• ECOS interface with all ECUs through Body Control Module
- To get Vehicle Serial Number
- To get traceability Data of the vehicle
- To send commands to ECU and read status
- To get results of tests conducted on the vehicle
• Protocols for ECU interface - CAN / Kline / LIN

► ECOS - MES (Manufacturing Execution Server Interface)Module
• Connectivity with MES server
• Uploading test data / results / reports to MES server
• Uploading repair work data / part numbers of devices replaced in the repair area, reports to MES server

► ECOS – WHT (Wire Harness Test)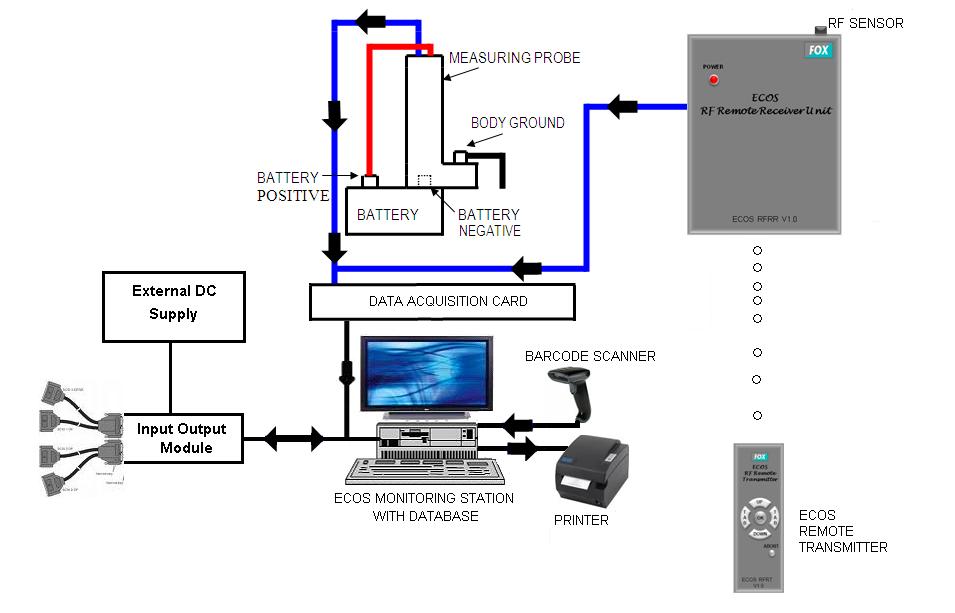 • This module is specially designed to test the wire harnesses in the vehicle.
• The following types of tests can be configured for testing harnesses
- Continuity test
→ Wire short and wire open test
- Component test
→ Resistor test
→ Diode test
→ Transducer Test
- Functional Tests
• Control Cables with connectors run from IO modules to the harness connected to the vehicle
• Automatic control and monitoring of analog and digital IO's using input output controller
• Debug mode with check list, wiring diagram and a tool to force outputs and check input status for failure diagnosis
• Resume / Restart facility - The system will resume further from last successful test completed, after which, the testing sequence was terminated due to reasons such as power failure. The user can select to resume the last test or start new test.
• Resource selection - The resources (power supply, multimeter, etc) required for testing can vary for different harnesses. The software is equipped with the pre configuration tool for resource selection. The user can select the resources required for the test. The resources will be connected using test electronics matrix cards & will be part of test pre-configuration. The pre-configuration of resources will be related to the type of product & not to the specific test hence changes in test sequence or parameters will not have effect on configuration of resources.

► ECOS – Simulators
ECOS simulators provide simulation for modules which have not been installed on the vehicle e.g. cockpits or doors. This includes a relay matrix automatically controlled using digital outputs that can be configured to remain permanently on / permanently off / conditionally on during the test step.